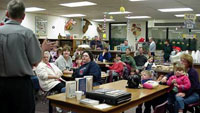 Note to teachers:  if  you are willing to share a successful teaching unit based on one of my books and have it posted here, please Contact me.
Teachers– if you would like me to e-mail you the answers to The Broken Blade 15-page study guide listed below, feel free to send me an e-mail.
Special thanks to the teachers from the following schools who've shared their classroom ideas: Waseca Junior High School; New Prague Middle School;  Owatonna Middle School; Jeffers School in Painesdale, Michigan; Michaelson Middle School, Brookings, South Dakota; and Little Falls Community Middle School in Little Falls, Minnesota.
Step-by-step tips on using a novel for a  School-wide Reading Program [MS Word]
The Hidden Room, the Holocaust in Ukraine Resources
The Holocaust in Ukraine, A Special Project of the United States Holocaust Museum
No Place on Earth, a film that recounts the real-life story of the Stermers, a Jewish family living in Ukraine during World War II, who fled from the Nazis and found refuge in a cave. It includes interviews with the survivors.
No Place on Earth, film study guide.  Includes classroom activities,  discussion questions, curricular suggestions, and photographs of cave artifacts.
CBS News story on the Stermers' cave survival.  Includes survivor interviews
The Secret of Priest's Grotto: A Holocaust Survival Story. A photo-illustrated book authored by Peter Lane Taylor and Chistos Nicola. Nicola is a spelunker who discovered the cave in Ukraine where the Esther Stermer and her family hid for more than a year, setting a record for human habitation underground.
The Holodomor Resource Library: includes teacher resources and eye-witness accounts of Joseph Stalin's forced starvation of Jewish villages in Ukraine during the winter of 1932-33.
The Florida Holocaust Museum. Located in St. Petersburg, Florida, it includes a guide for educators, as well as exhibits, and survivor interviews.
The Broken Blade  & Wintering, Voyageur Resources
Grapic Novel Version of The Broken Blade:    From August, 1999 through May, 2002, Boy's Life magazine published a 27-episode illustrated version of  The Broken Blade.  All but the first episode of the 50+ page graphic novel can be accessed on Google Drive here.
"Who Was George Bonga?"  A story from the Minnesota Conservation Volunteer Magazine about the life of the famous Black and Ojibwe voyageur, George Bonga.  Includes a study guide.
White Oak Society:  Includes many links to a wide variety of fur trade resources:    http://www.whiteoakhistoricalsociety.org/historical-library/fur-trade/
Grand Portage National Monument
Fort William, Historical Park, Thunder Bay, Canada
Fur Trade at Lachine, Montreal Historical Site Includes teaching activities.
Building a Birch Bark Canoe   https://www.youtube.com/watch?v=27VZtSl02B8
A PowerPoint with information about the White Oak Fur Post in Deer River, MN.
Credit: Connie Quirk, Mickelson Middle School, Brookings, South Dakota.
A History of the Voyageurs Making the Voyageur's World, Travelers and Traders in the North American Fur Trade, by Carolyn Podruchny.
Complete BROKEN BLADE Study Guide, 22 Pages [PDF – Large File – 6.8 MB] Owatonna Middle School, Owatonna, MN
THE BROKEN BLADE study guide, 11 pages [MS Word]
THE BROKEN BLADE test [MS Word] from Schoolcraft Learning Community, Bemidji, MN
THE BROKEN BLADE Response Packet [MS Word]
THE BROKEN BLADE Review [MS Word]
THE BROKEN BLADE study guide (15 pages)
THE BROKEN BLADE study guide (10 pages)
WINTERING reading response packet [MS Word] from New Prague Middle School
WINTERING study guide [MS Word]
Heartistry Music Has both voyageur and lumberjack music.
Bibliography of Fur Trade Era Journals & Nonfiction
     The Voyageur by Grace Lee Nute
     Fur Trade Canoe Routes of Canada by Eric Morse
     Daniel Harmon's Journal 1810-1819
     The Journals of Sir Alexander MacKenzie, 1789 & 1793
     My First Years in the Fur Trade, George Nelson Journal 1802
     David Thompson's Narrative edited by J.B. Tyrrell
     A Journey to the Northern Ocean by Samuel Hearne
     A Narrative of the Captivity and Adventures of John Tanner
Modern Stories of Canoe Journeys
     Canoeing with the Cree by Eric Sevaried, 1935
     Portage into the Past by Arnold Boltz, 1958
     The Singing Wilderness by Sigurd Olson, 1956
Note:  Cross-curricular, school-wide units on The Broken Blade and Wintering often include studies of fur trade history (life in the Great Lakes basin 1600-1850), geography (fur trading posts and routes), sociology (cultural interaction among the Ojibwe, French-Canadian, and British) economics (market forces that drove the fur trade), foreign language (Ojibwe and French studies), literature (contemporary and historical pieces), creative writing and art (lots of possibilities), music (fur trade songs), physical education (cardio vascular effort of paddling and portaging), health (diet of fur traders), biology (ecosystems of lakes and rivers), mathematics/physics (forces required to paddle a 36 ft. canoe with 8,000 lb. load), shop class (building a model of a voyageur canoe), home economics (food preparation and fashion trends).
El Lector, Resources
National Public Radio, Lost and Found Sound: El Lector – He Who Reads
Teaching Historic Places, National Park Service, Ybor City History with Lesson Plans
Minnesota Public Radio link to William Durbin interview
Ybor City Museum  Tampa, Florida
Blackwater Ben & Dead Man's Rapids, Logging History Resources
Books
Daylight in the Swamp by Robert W. Wells, NorthWord Press, Inc., Minocqua, Wisconsin (1978).
Early Loggers in Minnesota, Volumes I-IV by J.C. Ryan, Minnesota Timber Producers Association, Duluth, Minnesota (1973-1986).
Holy Old Mackinaw by Stewart H. Holbrook, Macmillan, New York (1956).
History of the White Pine Industry in Minnesota by Agnes Larson,
Arno Press, New York, (1972).
The Loggers by Richard Williams, Little Brown & Company, New York (1976).
The Maine Woods by Henry David Thoreau, Penguin USA, New York (1988).
Tall Timber: a Pictorial History of Logging in the Upper Midwest, by Tom Bacig and Fred Thompson, Voyageur Press, Bloomington, Minnesota (1982).
Timber! by Ben Rajala, North Star Press, St. Cloud, Minnesota (1991).
Under the Tarpaper by J.C. Ryan, St. Louis County Historical Society, Duluth, Minnesota (1985).
Blackwater Ben & Dead Man's Rapids classroom activities
Lumberjack Study Guide for my short story, "Sweat Pads, Logging Berries, and Blackjack," published in the Minnesota Conservation Volunteer magazine, November 2008
Blackwater Ben study guide (thanks to Little Falls Community Middle School) [MS Word]
POST-test [MS Word]
Draw critter [MS Word]
study guide KEY [MS Word]
Letter writing assign [MS Word]
Jeopardy questions [MS Word]
Friendly letter format [MS Word]
Skeleton notes for Blackwater [MS Word]
Forest History Organizations
The Forest History Center  Ideal for class field trips.  Costumed interpreters make it seem like you are traveling back in time to a real 19th century logging camp.
2609 County Road 76
Grand Rapids, MN 55744
www.mnhs.org/places/sites/fhc
The Minnesota Historical Society,
345 W. Kellogg Blvd.
St. Paul, MN 55102-1906
www.mnhs.org
United States Department of Agriculture Forest Service,
USDA Forest Service
P.O. Box 96090
Washington, D.C. 20090-6090
www.fs.fed.us
The Darkest Evening, Resources
Books:
They Took My Father by Mayme Sevander, Univ. of MN Press
Karelia, A Finnish-American Couple in Stalin's Russia by Lawrence and Sylvia Hokkanen
Vocab – Darkest Evening [MS Word]
Compare working conditions – MN & Russia [MS Word]
Quote Research template [MS Word]
Quote Research template – examples [MS Word]
Study Guide [MS Word]
Test [MS Word]
The Winter War, Resources
An ideal companion for my Winter War novel is the documentary film
Fire and Ice, available from Masterworks Studio.  http://media.wfyi.org/fireandice/
Watch the complete version of the Fire and Ice film here: https://www.youtube.com/watch?v=WR2FqMUVZzc
A Winter War re-enactor site with great photos and technical
articles:  http://www.mosinnagant.net/finland/kevosfour.asp
A complete history of the Winter War, including a comprehensive timeline, news
stories, and archival photos: http://www.winterwar.com/
Photo collection of Winter War http://www.ww2incolor.com/finnish_forces/
Song of Sampo Lake, Resources
My Name Is America Series
Until the Last Spike (originally published as The Journal of Sean Sullivan, a Transcontinental Railroad Worker)
The Journal of C.J. Jackson, a Dust Bowl Migrant
The Journal of Otto Peltonen, a Finnish Immigrant
Mining History Resources [MS Word]
The Journal of Otto Peltonen Lesson Plan [MS Word]
OTTO PELTONEN Discussion Guide
Assignments Based on The Journal of Otto Peltonen
Book Discussion [MS Word]
Family Tree Project [MS Word]
Map Assignment [MS Word]
Vocabulary Assignment [MS Word]
Credit: Cheryl Ruohonen and Jennifer Pera of the Jeffers School in Painesdale, Michigan