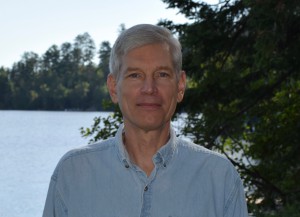 I've lived at the edge of Northeastern Minnesota's Boundary Waters Canoe Area most of my adult life, and I've paddled and portaged through a great many of its wilderness lakes. Yet it wasn't until my son suggested that I look into the history of the voyageurs that I began my research for THE BROKEN BLADE. After studying a variety of old journals, letters, diaries, and North West Fur Company documents I was excited to discover that I could base my novel on real events and real characters of the period. In fact, 95% of the content of both THE BROKEN BLADE and its sequel WINTERING was taken right from fur trade history.
I followed the same pattern in researching my north woods homestead story, SONG OF SAMPO LAKE; but in addition to traditional archived sources, the 1900 setting of the book also allowed me to interview many people who had vivid memories of their family homesteads. Oral history tapes and transcripts obtained from collections at the Minnesota Historical Society and the Iron World Research Library were invaluable, too. Black Jack Mattson, one of the main characters in SAMPO LAKE, is modeled after a man named Black Jack Niemi who lived near Embarrass, Minnesota; and virtually all of the hardships that Matti and his family confront were experienced by actual homesteaders.
In the same way I tried to make my lumberjack novel, BLACKWATER BEN, mirror the reality of an 1898 logging camp. Told from the viewpoint of Ben Ward, an assistant cook (or cookee), who has to feed 80 hungry lumberjacks every day. The characters such as Charlie the dentist (so called because he sharpens the teeth on the saws), Needlenose (named after a lumberjack who lived near Tower-Soudan), and Windy (the toothless story teller) are all patterned after real characters.
DEAD MAN'S RAPIDS, the sequel to Blackwater Ben, continues the adventures of Ben and his buddy, Nevers, who work as cooks on a spring log drive. While riding on the wanagin, a floating cookshack/bunkhouse that follows the logs, the boys meet a colorful and humorous cast of characters, and they confront a series of challenges that test their courage.
In THE DARKEST EVENING I tell a story based on true events that took place during the 1930's, when some 6,000 Finnish-Americans traveled to Karelia, a province in Northwestern Russia, hoping to escape the Depression and to establish a worker's paradise. Jake Maki is reluctant to leave his home on the Mesabi Iron Range, and when Stalin's Secret Police begin targeting Americans for arrest, his worst fears are confirmed. Eventually, Jake leads his family on a daring mid-winter escape attempt, as they flee toward the Finnish border on cross country skis.
In EL LECTOR I tried writing from the viewpoint of a female protagonist for the first time, and I explored a part of the world far removed from Northern Minnesota–Ybor City, Florida, back in 1931. During this magical time professional readers known as lectores entertained and educated the cigar rollers as they worked at their factory benches.
The WINTER WAR details Finland's courageous effort to defend its borders when Stalin invades in the fall of 1939. Told from the viewpoint of a young boy who volunteers to be a messenger for the Finnish army, the book relies on interviews that I conducted with Winter War veterans (many of whom are currently living in the Great Lakes Region), civilians of the time, and military experts.
As I continue to publish historical fiction I'll challenge myself to make each book as authentic as I possibly can. My home on Lake Vermilion offers a perfect place for me to do my writing and research. My wife Barbara is a teacher, who gives me some of the best ideas for my stories. My daughter Jessica, a graduate of the University of Minnesota Law School, is working as an attorney in Duluth; while my son Reid, who created this website, is a graduate of St. Scholastica College and currently co-owns CALHOUN DESIGN in Minneapolis.
I frequently speak at schools, libraries, and conferences throughout the country. In addition to my young adult novels I have published poetry and essays for adults, and supervised writing research projects for the NCTE, Middlebury College, and the Bingham Trust for Charity.
Writing Honors
Great Lakes Book Award
Minnesota Book Award
Bank Street College Children's Book of the Year list
New York Library Books for the Teen Age list
Junior Library Guild Selection
Jefferson Cup Series of Note Award
America's Award commended title
Book Sense Pick of the Day
Boy's Life Magazine Serialization
Oppenheim Toy Portfolio Silver and Gold Awards
KLIATT Best of the Year YA Hardcover Fiction
Cooperative Children's Book Center Best-of-the-year List
Northeast Minnesota Book Award Winner
Starred reviews in Publisher's Weekly, Kirkus, and Booklist
Academic Honors
Lawrence B. Holland Memorial Scholarship, Middlebury College
National Council of Teachers of English writing research grant
Classroom Writing Research Grant, Middlebury College
Bread Loaf Scholarship, Lincoln College, Oxford, England
Scholarship grant, Bread Loaf School of English
Finalist New Rivers Press Poetry Competition
Winner Lake Superior Contemporary Writer's Series
I've also published many poems, essays, and stories that have appeared in a variety of journals and literary magazines including English Journal, The Great River Review, Milkweed Chronicle, Confrontation, North American Mentor, Canadian Author and Bookman, Loonfeather, Modern Haiku, Nebraska Language Arts Bulletin, Breadloaf News, and the NCTE Classroom Anthology.