I've made over 1,000 appearances at schools, libraries, and conferences since The Broken Blade was released in 1997. Whenever I visit a community, my goal is to get students excited about reading and to inspire them to engage in writing projects of their own.
My rates are reasonable–$600 per day for in-state events or $300 for a half day, and $700 for out-of-state appearances, plus travel expenses. I will speak to assembly-sized groups or conduct more personal writing workshops. For availability e-mail   bill @ williamdurbin.com
Assembly Presentations
For assembly presentations at schools I share what inspired me to become a writer, and I bring history to life by showing students archival photos of the periods that I've written about including the fur trade (The Broken Blade and Wintering), logging history (Blackwater Ben), immigration and labor history (El Lector, The Darkest Evening, Until the Last Spike, and The Journal of Otto Peltonen), homesteading (Song of Sampo Lake), and overcoming a disability and the politics of war (The Winter War). I also share how I do my research, and most importantly, I try to inspire young authors to work on their craft.
Writing Workshop Topics
The Truth in Historical Fiction
How to use original source material such as diaries, letters, journals, field research, newspaper articles, personal interviews, and unpublished manuscripts, to write fiction that brings history to life.
Beginning with a Bang                                                      How to develop an opening strategy for a short story or novel that will immediately engage your reader and grab his or her attention. After reviewing some classical beginnings of stories, students will practice writing a beginning of their own.
Flash Fiction or the Short, Short Story                                                                         Have you heard of flash fiction, micro-fiction, nano-fiction, or the vignette? No matter what name you give to the short, short story, it is a challenging form with a rich literary tradition. In this session we will study examples of famous short, short stories; and students will have an opportunity to compose at least two stories of their own. Experience the amazing things you can accomplish using fifty-five words or less.
Creating Memorable Characters                                                                                           In this session we'll focus on how to create a character that will immediately engage your reader. You'll learn how to choose the main character for your story, and we'll practice several writing techniques that will help you make your character vivid and real.
Viewpoint, Finding your Voice                                                                                          How to choose a point of view that will allow you to tell your story most effectively. Mr. Durbin will share classic examples from a variety of authors who have used first person, third person, or omniscient voices with great success. Students will practice their skill at choosing an appropriate viewpoint and working on a story of their own.
How to Beat Writer's Block
Ways to make the initial engagement in the writing process more enjoyable and productive.
Novels in Your Neighborhood
How to use people, places, and events from your own hometown as the foundation for short stories and novels.
How to Publish Your Writing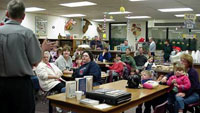 Tips on how to market your writing. Everything you've always wanted to know about editors, agents, contracts, rights, royalties, & publishing trends. Suggestions for student writers who wish to get published.
No Teacher Left Behind
One of the many education-oriented topics that I've shared with teacher and reading associations across the country.
Historical Fiction as Diversity Education or Prejudice and Tolerance Through Time
How my novels have depicted conflicts between a variety of cultures including the French Canadian voyageurs and the Ojibwe, the builders of the Transcontinental Railroad and the plains Indians, Irish and Chinese railroad workers, Finnish-American immigrants and United States Steel Corporation, Dust Bowl era migrant families and the Southwestern establishment, and Finnish-Americans and Russia's Stalinist regime.
Additionally, I can do workshops for any age level of students in any area of writing including fiction, poetry, nonfiction, and drama. For more information contact me at: bill @ williamdurbin.com
Teacher & Media Specialist Recommendations
"The author visit with William Durbin was a highlight for our sixth-grade students this year! His historical fiction books connected seamlessly to our social studies, language arts, and reading curricula. Students enjoyed learning more about history during the assembly presentation and interacting with Durbin during the writing workshops."   Tara Oldfield, Media Specialist, Oak Grove Middle School, Bloomington Minnesota.
"Mr. Durbin's presentations are equally suitable for upper elementary, middle, AND high school – fantastic. Everyone was enthralled. You could have heard a pin drop in the auditorium! Students, teachers, administrators, and parents were equally impressed. Every one of his books immediately got checked out from the library, and students are still asking for them." 
  Emily Spiegel, Library Information Specialist, Southside Fundamental Middle School, St. Petersburg, Florida
"Teachers and students alike still talk about today…he was truly mesmerizing and had the full attention of the children as well as the adults."
   Diane Kort, Library Information Specialist, Lakeview Fundamental Elementary School, St. Petersburg, Florida 
"Tarpon Springs Elementary had the privilege and pleasure of having William Durbin present to our 3rd, 4th & 5th grade students. What an incredible experience! The children were completely engaged. He uses historical photographs and documentation throughout his presentation to teach the children about history and how he uses his research to create his stories. He was very in tune with the students. He knows how to talk with children to engage them. Most of all, he has the children excited about reading. All of his titles are checked out from our library, and there is a waiting list for more of his titles."
    Juli-Anne Hipp, Tarpon Springs Elementary School, Tarpon Springs, Florida
"Mr. Durbin has a teaching background-he understands students, their interests, their attention-and how to best utilize that understanding when interacting with them. Not only does Mr. Durbin give a presentation, he inherently teaches. He is a superb example."
   Gina Drellack, Media Specialist, Bagley Elementary School, Bagley, Minnesota
"William Durbin is our favorite author!"
   Patricia Danch, language teacher, Shepard Middle School, Deerfield, Illinois
"When my son, Hunter, came home from school on Thursday he could not stop talking about William Durbin's visit. The light in his eye that evening brought tears to my eyes. As teachers and parents we strive each and every day to find that spark that will open a child's mind and engage them in learning. I was so impressed by his excitement. My thanks to Mr. Durbin for taking the time to visit our school!!!"   Jamie Ryba, Rue Elementary, Council Bluffs, Iowa
"I highly recommend William Durbin as a guest author for middle schools.  He spoke to my 7th grade ELA classes since history is also taught at that grade level.  He does a slide presentation of archival photos which is amazing."   Anne Mazzulla, Johnston Middle School, Las Vegas, Nevada
Planning an Author Visit
Find out more information on how to plan and prepare for a successful author visit.