William and Barbara Durbin Sign their new novel, Dead Man's Rapids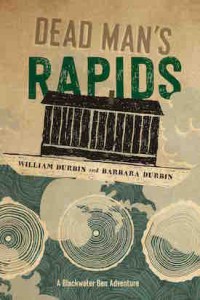 Saturday, November 18 at 1:00 p.m.
Minnesota authors William Durbin and Barbara Durbin will be at Zenith Bookstore for a reading and signing of their new book, Dead Man's Rapids.
When 13-year-old Ben Ward left school to work with his Pa in a logging camp, a winter of peeling potatoes wasn't the adventure he had in mind. Taking up where Blackwater Ben left off, Dead Man's Rapids returns to Minnesota's north woods in the late nineteenth century, and with warmth, humor, and attention to historical detail engages readers young and old.
"The Durbins have a knack for realistically depicting life on a rugged frontier and the many dangers of driving millions of board feet of logs down rivers to sawmills, an annual event in 19th- and early-20th-century America. Fans of Gary Paulsen will enjoy immersing themselves in a grand adventure. Fine historical fiction that will successfully transport readers into an out-of-the-ordinary time and place." —Kirkus Reviews
"The authors give just enough information about logging, including illegal clear cuts, to bring history to life without getting bogged down in details. Adventure stories are always appealing to kids, especially boys, but this account of life on a logging cook boat will interest adults, too." —Pioneer Press